Officially Known as the Republic of Sweden, it is a Scandinavian country in Northern Europe. This country Share its Boundaries with Norway, Finland, Denmark & the Oresund, a strait at the Swedish-Danish border. The capital of Sweden is Stockholm.
Sweden experiences a milder climate. February is the coldest month, the temperature ranges between -22 to -3°C.  The temperature in Summer is generally between 13 to 17°C. Southern Sweden receives its first snowfall in the month of October. Sweden also experiences 'Midnight Sun', which is a Scandinavian Natural Phenomenon, in which the sun never sets in the north of Arctic Circle for a particular part of the month in June & July.
Sweden is known for its delicacies like meatballs & pickled herring, not only this but this country has a strong tradition named as 'Fika' which is an art of catching up on coffee and cake. Sweden is famous for its high-end fashion. It is home to various brands like IKEA, H&M, Ericsson, Volvo, and Spotify.
The major Tourist site of Sweden is Aurora viewing also known as 'Northern Lights', apart from this Sweden is famous for its lakes as a result the capital city Stockholm is also known as Venice of North. Other tourist attractions are Vasa Museum, Skansen and Djurgården, Gamla Stan, Drottningholm, Stockholm Archipelago, Stromma Boat Tours, Kiruna and the Ice Hotel, The Gota Canal, Stockholm City Hall, Visby, Gotland, Liseberg Theme Park, Oresund Bridge Abisko National Park, Sigtuna, etc.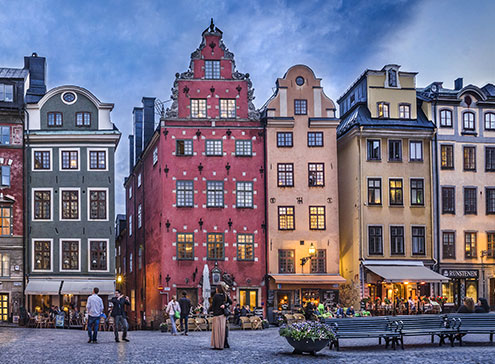 LATEST TOUR PACKAGES
WE WILL GET BACK TO YOU SOON…
CUSTOMER REVIEWS
We've been trusted by our client for over 4 years
We are all checked in to leave.. had a great trip..all your arrangements were very good..thanks for all your efforts and coordination in ensuring the trip was seamless..A big thanks to Tushar who made it good.

Meenakshi Dahake,

Trail Blazer Tours India Private Limited
Thanks a lot for all your Support during USA Trip , All the arrangements and transfers worked like clockwork, I appreciate your efforts in making this happen. I would highly recommend Lamour Voyages.

Arundeep Kaur

Traviam Holidays
Who We Work With
We believe progress is only possible when we work together.