officially known as the Portuguese Republic, it is one of the oldest countries in Europe. It is a coastal country in southwestern Europe covering an area of 92,090Km².
Portugal has a warm, temperate, Mediterranean climate, with hot summers & wet Winters. The areas nearby coast are humid and the humidity diminishes on moving towards the center of the country. During summer, the temperature ranges between 35-40°C making it hot & Humid. Winters are generally wet & windy.
Portugal is known for its Golf Course and water surfing, making it Europe's most popular golfing & Surfing destination. Delicacies like Piri Piri chicken and Pastéis de Nata, a Portuguese Custard Tart has got their origin from this country, these two dishes are Portugal's gift to the culinary world. Portugal is also the world's top producer of Cork & port wine. It is also known for its tiles known as azulejos, these are used to line the outside of buildings, in order to escape the heat. This country also has beautiful Beaches.
Some of famous tourist attractions of Portugal are Mosteiro dos Jerónimos, Oceanário de Lisboa, Palácio Nacional de Sintra, Kayaking at Lisbon coast, Torre de Belém, Convento do Cristo, Bom Jesus do Monte, Hiking at the Gerês Mountain Range, Universidade de Coimbra, Museu Calouste Gulbenkian, Castelo de Guimarães, Torre de Clérigos etc.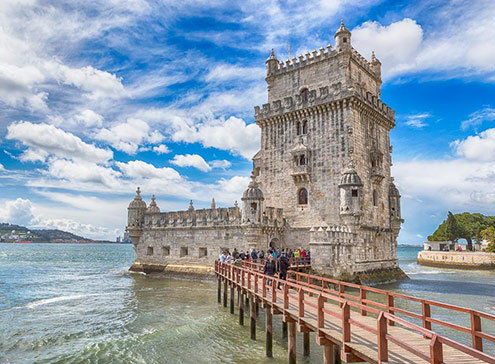 LATEST TRAVEL PACKAGES
WE WILL GET BACK TO YOU SOON…
CUSTOMER REVIEWS
We've been trusted by  our client for over 4 years
We are all checked in to leave.. had a great trip..all your arrangements were very good..thanks for all your efforts and coordination in ensuring the trip was seamless..A big thanks to Tushar who made it good.

Meenakshi Dahake,

Trail Blazer Tours India Private Limited
Thanks a lot for all your Support during USA Trip , All the arrangements and transfers worked like clockwork, I appreciate your efforts in making this happen. I would highly recommend Lamour Voyages.

Arundeep Kaur

Traviam Holidays
Who We Work With
We believe progress is only possible when we work together.